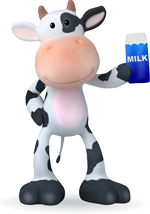 Double S Dairies, located in the Northern Panhandle of Texas, is a family owned and operated Dairy Farm that milks over 2,400 cows.
Our family takes great care of our cows, making sure each one is comfortable and healthy. Our cows produce milk that is marketed across Texas and some is even made into cheese that is sold across the United States.
Our Milk is sent to Schepps plants to be made into many of Schepps different dairy products, and is sometimes sent to Southwest Cheese located in Clovis, New Mexico to be made into cheese.
We continue to strive for excellence in the stewardship of our cows, land and employees. We practice responsible and sustainable Dairy Management, Farming and participate in our community. We believe that being responsible is the only way to go.
We invite you to check out Fair Oaks Farms Dairy Adventure. Click Here
This web site is continuously being updated, and invite you to come back soon.